Welcome to Blue Owl Books
You have found your way to a site dedicated to Scandinavian crime novels. Unfortunately, for this moment, this site is only in Dutch. Information is provided in the form of a short biography and the books translated into Dutch.

To make browsing on this site more convenient I've translated the entries to this site into English. You can find a specific author by selecting on the left side Authors and select the first letter of the authors surname on the new page. The other option is to select an author by nationality, which you will also find in the left side menu.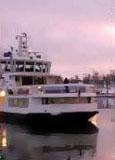 A few links to authors on this site: